Industrial Portable Quad Pod K50 & K65 Lighting Tower
A high power mobile outdoor floodlighting solution specifically designed for Construction, Hire, Rail, Utilities and Outdoor Events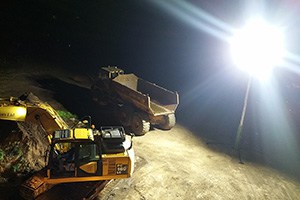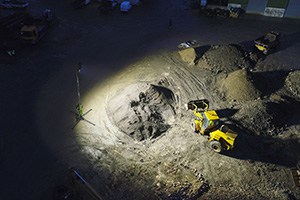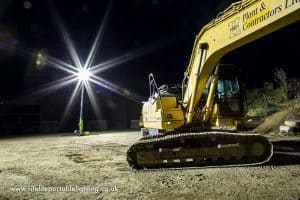 Watch The Quad Pod K50 & K65 Portable Lighting Towers In Action
Why is the Quad Pod K50 & K65  range of portable lighting towers so popular?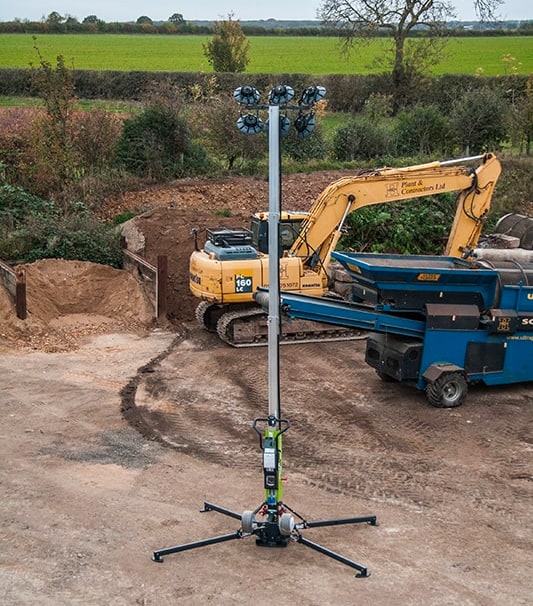 About Our Quad Pod K50 & K65 Industrial Lighting Towers
The special demands of the construction, hire, rail and utilities sectors require unique solutions from equipment manufacturers, none more so than for mobile lighting equipment.
The potential applications for mobile lighting towers are wide ranging and diverse. From construction sites to outdoor sporting events, each application has its own specific requirements regarding the type of light projection required, power sources available, access to the site and placement of the towers.
The range includes 2 models. The K50 which extends to 5M height and the K65 which extends to 6.5M height. Both models can be fitted with either 4 or 6 High power 200W LED light heads.
K50
5 metre mast height
3 mast sections
4 or 6 light heads
200W LED lights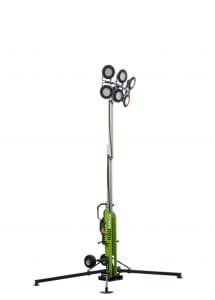 K65
6.5 metre mast height
4 mast sections
4 or 6 light heads
200W LED lights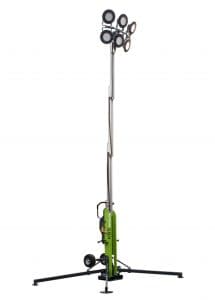 Not Sure How Many Lights You'll Need?
Tell us a little bit about your lighting area and we'll create a custom lighting diagram. It will show you how many lights you'll need to cover the area.
Quad Pod Light Effects
The Quad Pod's Flexible Adjustable LED Light heads can be positioned to create the desired light effect from a 180 degree directional light to a full 360 degree area light.
See How Fast The Quad Pod K50 & K65 Is To Set Up
A one person two minute deployment.
Download The Quad Pod K50 & K65 Brochure
Please enter your email address below and we will instantly send you a copy of the brochure.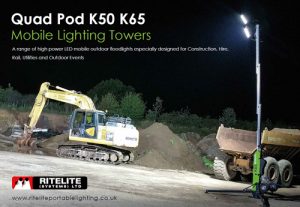 More About Our Portable Lighting Towers
Many applications including outdoor events take place on surfaces which must be protected from damage. Vehicle access may be restricted or prohibited meaning that traditional solutions including road towable lighting towers cannot be used.
Manufactured by Ritelite in the UK, the K50 and K65 Quad Pod Portable Lighting Towers provide the ideal solution for powerful, flexible and highly mobile lighting towers which can be used in just about any situation.
Two models are currently available: the K50 with a working height of 5m and the K65 with 6.5m. Both models are fitted with high power energy saving LED light heads which can be configured to provide an optimised light output according to specific user applications.
The K50 & K65 feature a rapid one person deployment system, reducing handling and set-up / break-down times to a minimum. All models can be deployed by one person in less than 2 minutes. The innovative and compact design optimises handling whilst also minimizing space claim for storage and transport.
In rough terrain applications, where access to site is restricted, or prevention of ground damage is critical, the built-in folding wheels with optional low pressure tyres allow the K50 & K65 lighting towers to be moved into position by one person. The Flexible power options enable the K50 & K65 to be used almost anywhere.